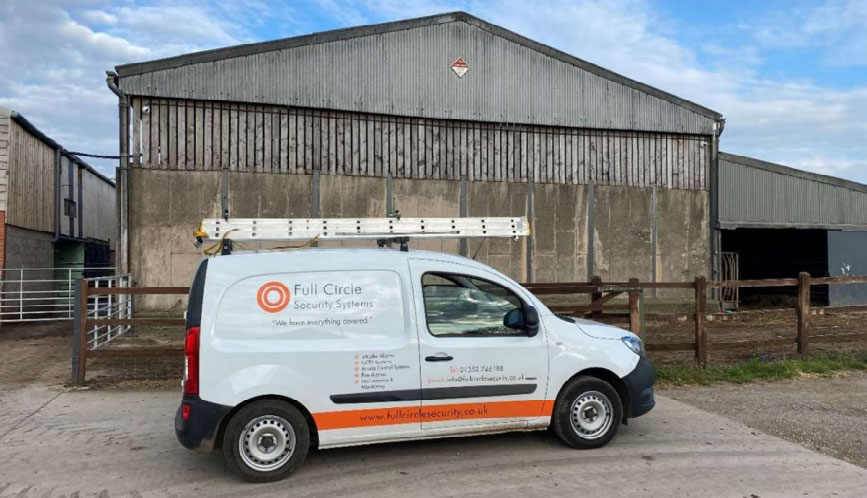 Introduction
We developed this Case Study for our use in describing the system we installed for a local Dairy Farm that had expressed an interest in having CCTV installed. Our client had experienced problems with theft over recent times and could see the potential benefits of having a system in place that could be introduced to their daily farming routine.
Challenge
During our initial risk assessment visit the key problems highlighted to our Surveyor were that the areas of coverage were spread across various buildings on the farm, on separate sides of a public highway and with no cabling routes between them.
Our clients wanted to keep an eye on their livestock within the Birthing Shed to ensure someone could be on hand as and when required, without the need to physically attend on a regular basis during the calving season(s).
Due to the nature of running a farm there are periods when areas are left exposed throughout the daily routines and so having the facility to monitor access points to the farm were discussed as a priority.
Solution
We designed and proposed an IP Based CCTV System with Wireless Bridge Network Access Points supplied from building to building, as illustrated in fig. 1 below.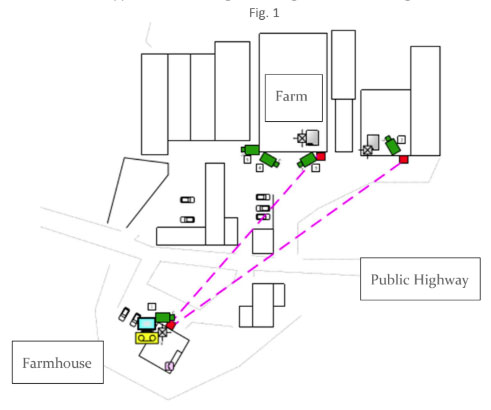 This solution eliminated the need to run cabling from one side of the public highway to the other and across the farm grounds, avoiding much disruption and high expenditure for our customer.
The cameras installed were 4 Megapixel IP outdoor turret style (see fig. 2 below) with a technology built in called AcuSense. This offers smart image analytics to the camera which allows the camera to accurately detect people and vehicles while ignoring potential false alarms. The detection of people or vehicles can generate an alarm notification to be raised and sent to your PC or Smart devices.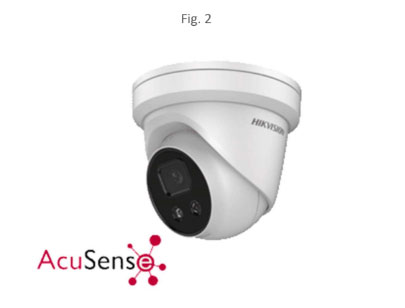 The summary of features for this camera are listed as follows:
4 Megapixel Resolution
Built in infrared with up to 50m range night vision
AuSense image analytics
Fixed wide angle 2.8mm lens
On-board Micro SD card slot
H.265+ compression technology
Wide dynamic range
All cameras signal wirelessly from the farm to the farmhouse and record 24/7 activity to the securely located Network Video Recorder with integrated Hard Disk Drive. All cameras are viewable from a flatscreen high definition monitor, which can be used to playback recorded data off the Hard Disk Drive. If an incident occurs footage can be downloaded and exported to a USB Flash drive, of which can be used and given as evidence to the Police.
The Result
The system took our Installation team 2 days to complete the works and then final commissioning and handover to the client was carried out on the third day. The system will now offer peace of mind to the client and help to run day to day activities and tasks on the farm more efficiently.
Our customer Mrs Ann Jones gave us a glowing review following completion of the works on the farm:
"Full Circle Security Systems was recommended to us by our neighbour who had recently had CCTV installed. During our initial appointment/assessment Dan Farrell talked us through the recommendations/installation/time scale and cost of installation on the farm. We found him to be very polite, friendly and professional. The work was undertaken over a couple of days working round our daily farming routine on the farm. The system is very easy to use and has been a real asset!" "We have no hesitation in recommending Full Circle Security Systems."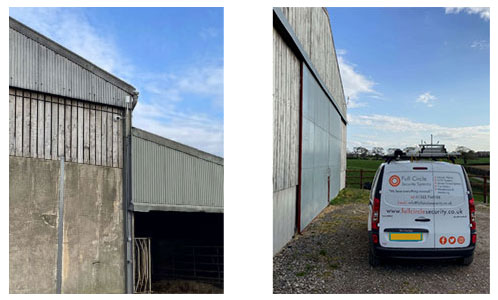 Thank you for taking the time to read our Case Study. (Back to Blog)
Should you have a query or a requirement for a similar solution at present or in future, please don't hesitate to contact us!
Please contact one of our friendly team or call in to our office - 9 Chester Street, Flint, CH6 5NR to discuss your requirements.
Call 01352 746188 now for more information!

Request your free of charge, no obligation, site security survey today.